Have you ever wondered how much easier and more efficient it could be to run your real estate business? Well, virtual assistants (VAs) are here to transform the game, and the real estate industry is catching onto this revolutionary trend.
You see, VAs are like the secret sauce that adds a burst of productivity and cost-effectiveness to your real estate endeavors. They work remotely, providing all sorts of invaluable services that make your business run like a well-oiled machine.
In an industry where effective communication and streamlined administrative tasks are paramount, VAs have become the real estate agent's best friend. They're your go-to partners for making your modern real estate operation thrive. So, let's unravel the magic of virtual assistants in the world of real estate! 🏡💼
What are Virtual Assistants 
So, what exactly are these magical beings we call virtual assistants?
Think of them as your behind-the-scenes heroes, skilled professionals who work their magic from afar to make your business shine. They're like your secret weapon, adaptable to various industries, and they're ready to tackle an array of tasks.
Picture this: They're your go-to for the nitty-gritty administrative stuff, like handling data entry and keeping your appointment schedule on point. But that's just the beginning of their superhero abilities.
Virtual assistants also rock the marketing game. From managing your social media presence to orchestrating email marketing campaigns, they've got you covered. They're like the maestros of spreading the word about your real estate prowess.
But wait, there's more! In the real estate world, they can step up to the plate for transaction coordination, ensuring that all those complex contracts and legal documents are in shipshape order. They're the guardians of your paperwork kingdom.
And let's not forget about lead generation. VAs are pros at following up with potential clients or investors, making sure no opportunity slips through the cracks.
In a nutshell, they're versatile, independent contractors who don many hats, depending on what your organization needs. Whether it's part-time or full-time, they're ready to dive in and make your real estate business soar. 🚀📋💼
The Importance of Virtual Assistants for Real Estate Agents
Now, let's talk about why virtual assistants are the real MVPs in the world of real estate agents.
Picture this: Real estate is like a high-stakes game, where efficiency is the name of the game. From nurturing client relationships to diving into the labyrinth of paperwork that accompanies transactions, it's a whirlwind of activity. Success hinges on your ability to juggle all these moving parts seamlessly.
Enter virtual assistants, the game-changers that real estate agents have been waiting for. They swoop in and do what they do best: freeing up your precious time. How? By taking those mundane, time-consuming tasks off your plate, allowing you to focus on what really matters – the big, productive initiatives that drive your business forward.
But hold on, the benefits don't stop there. It's not just about cost-effectiveness, although that's a big plus. By having virtual assistants, you can wave goodbye to the need for full-time, physically-present staff in your office, reducing overhead costs and increasing flexibility.
The real game-changer, though, is how they supercharge your productivity. With task delegation as their superpower, you get more done in less time. Imagine the possibilities when you can finally concentrate on what truly moves the needle in your real estate business. 📈💡💰
The Advantages of Employing a Real Estate Virtual Assistant
1. Affordable Administrative Support: Virtual assistants provide a cost-effective alternative to traditional administrative roles, ensuring that essential tasks are completed without the overheads of full-time staff.
2. Boosted Productivity: With VAs handling various tasks, real estate agents can experience a surge in their overall efficiency and output.
3. Focus on Core Activities: By delegating routine tasks to VAs, agents can concentrate on high-priority and revenue-generating activities.
4. Adaptable Work Arrangements: Virtual assistants offer flexibility in both the number of hours they work and the tasks they undertake. This adaptability is especially beneficial during peak business times or when launching new initiatives.
5. Tailored Support Based on Needs: The versatility of virtual assistants means they can adjust their services to fit your specific needs. Whether it's transaction coordination, marketing, client outreach, or lead generation, they've got it covered.
In essence, virtual assistants are a dynamic resource for real estate agents. They bring the expertise and tools necessary without the added expenses of onboarding permanent staff. By leveraging their diverse skills, agents can enhance productivity, conserve time, and optimize profitability.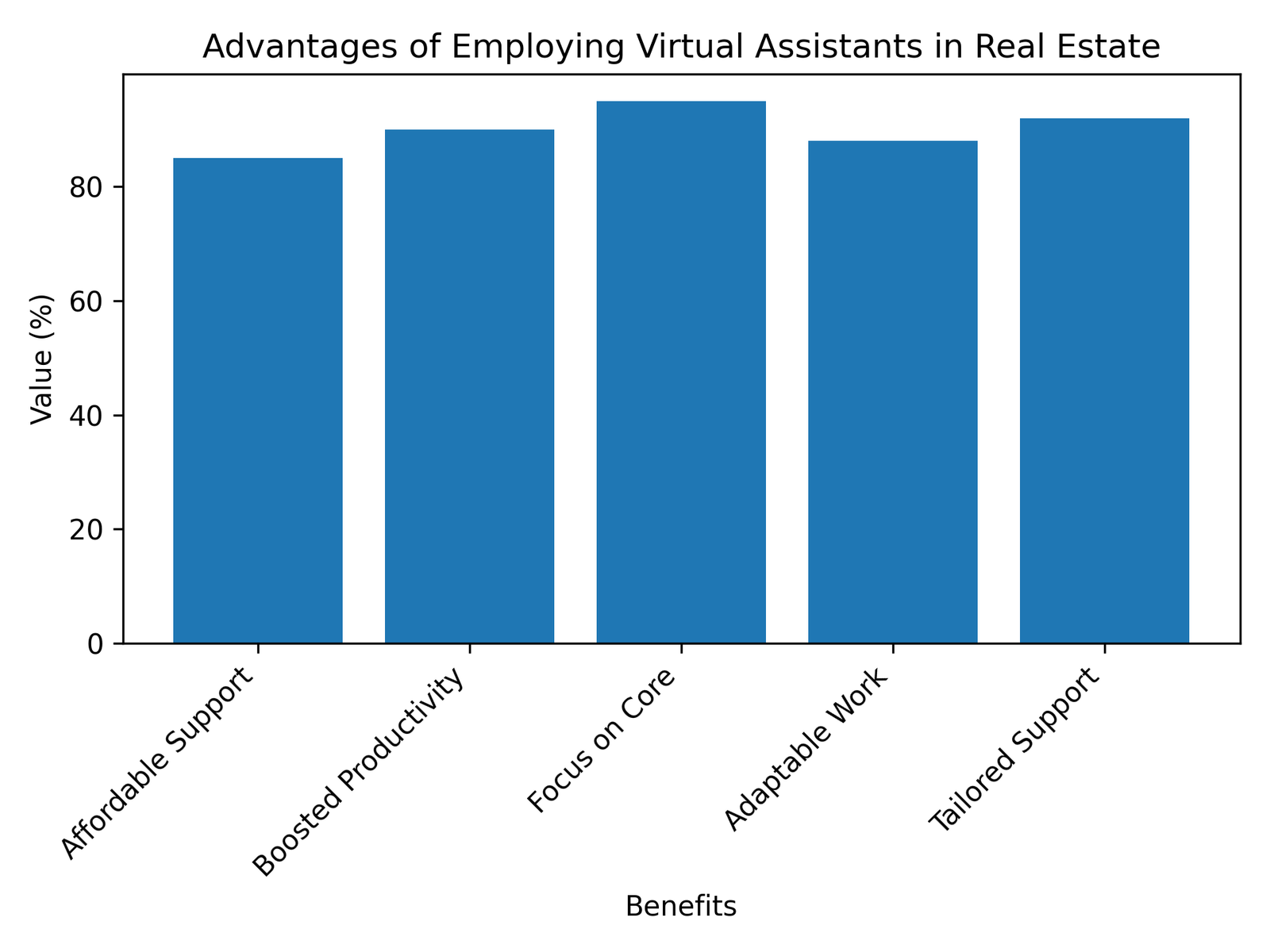 Benefits of Hiring Get It Done For Me Virtual Services for Real Estate Agents
**1. Cost-Effective Administrative Solutions**
One of the standout advantages of partnering with Get It Done For Me Virtual Services is the cost savings. Traditional in-house assistants come with added expenses, from workspace to equipment. Our virtual assistants, on the other hand, operate remotely, eliminating overhead costs. You also benefit from a flexible payment structure, paying only for the specific hours or tasks, rather than a fixed salary.
**2. Boost in Productivity and Efficiency**
With over 40 years of real estate experience, Katerina Gasset has developed comprehensive training for our virtual assistants. By delegating tasks like data entry, appointment setting, and email management to our trained professionals, real estate agents can dedicate more time to high-value activities. Our VAs, with their specialized skills, ensure tasks are completed swiftly and accurately.
**3. Focus on High-Value Real Estate Activities**
Our virtual assistants empower real estate agents to zero in on activities that drive revenue, such as securing higher commission rates or cultivating leads. By offloading tasks like paperwork or call management to Get It Done For Me Virtual Services, agents can optimize their time and efforts.
**4. Unparalleled Flexibility**
Our virtual assistants offer unmatched flexibility, catering to the unpredictable schedules of real estate agents. Whether it's client meetings or property showings, our team adapts to your needs. Plus, with a global remote team, we provide 24/7 support, ensuring seamless operations across various time zones.
**5. A Game-Changing Solution in Real Estate**
Get It Done For Me Virtual Services revolutionizes the real estate industry with effective and efficient solutions. By entrusting administrative tasks to our team, real estate agents can concentrate on their core business activities, leading to increased revenue. With our extensive training and expertise, we ensure that our virtual assistants align perfectly with your business objectives.
Specialized Virtual Assistants for Real Estate Agents by Get It Done For Me Virtual Services
Real Estate Virtual assistants…
…especially those trained by Get It Done For Me Virtual Services, are adept professionals who assist real estate agents with a myriad of tasks, all from a remote location. Under the guidance of Katerina Gasset, with her 40 years of real estate experience, our virtual assistants are meticulously trained for real estate-specific tasks. Here's a breakdown of the specialized roles our VAs can play:
**1. Administrative Assistants**
Our administrative assistants are trained to support real estate agents in their daily administrative endeavors. From managing calendars and scheduling appointments to handling emails and phone calls, they're equipped to do it all. With a deep understanding of the real estate industry, they can also manage social media interactions and respond to client inquiries. Their proficiency in tools like Google Suite including many of the real estate CRMS, ensures seamless operations.
**2. Marketing Assistants**
Marketing is crucial in real estate, and our marketing assistants are trained to amplify an agent's online and offline presence. They craft your marketing materials, compelling email newsletters, design brochures for open houses, and curate engaging social media content. With expertise in digital marketing tools, including SEO/SEM and email marketing platforms like Mailchimp, they ensure that properties get the visibility they deserve.
**3. Transaction Coordinators**
The intricacies of real estate transactions are best left to experts. Our transaction coordinators, trained specifically for real estate processes, oversee the entire contract-to-close journey. They liaise with all parties, ensuring timely and accurate completion of tasks. Familiarity with software like Transaction Management Systems (TMS) and Dotloop allows them to track, schedule, and communicate efficiently.
**4. Lead Generation Specialists**
Generating quality leads is pivotal for any real estate agent. Our lead generation specialists, with their in-depth training, employ strategies from email campaigns to Google AdWords to target the right audience. They leverage platforms like Zillow Premier Agent and are adept at CRM software like Salesforce, ensuring a steady stream of potential clients.
A virtual assistant can help keep your database up to date. Inside sales is one of the most requested positions that a virtual assistant can help you keep your leads coming in.
At Get It Done For Me Virtual Services, our virtual assistants come equipped with skill sets tailored for specific roles in the real estate industry. With our comprehensive training and the expertise of Katerina Gasset, we ensure that real estate agents receive top-tier support, allowing them to focus on growing their business.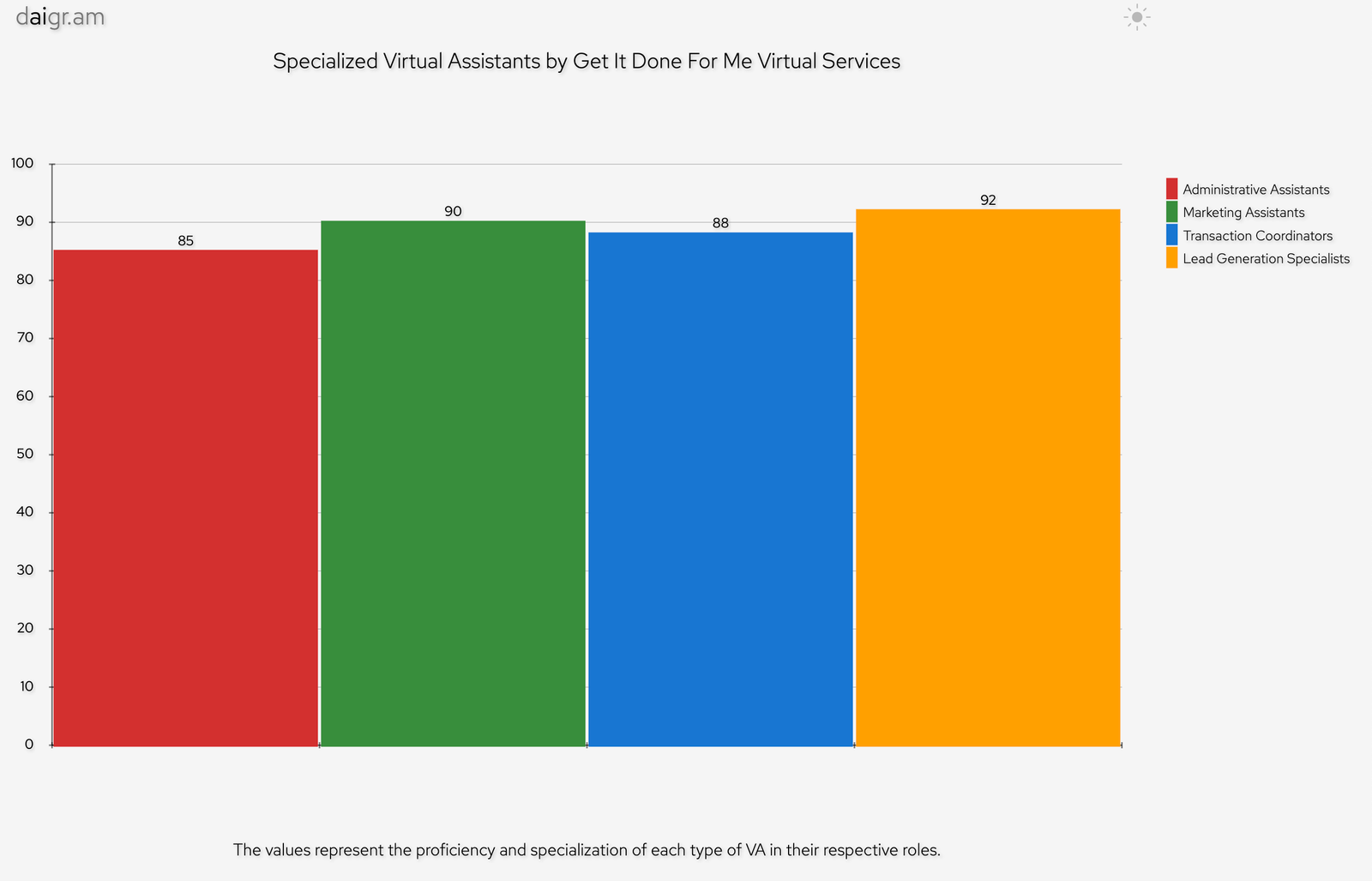 I have a full time virtual secretary who is so happy for the opportunity to work to take care of her children and she gets to homeschool them! What a great asset Vanessa has been to me. I have not checked my email inbox in over 3 years because she takes care of it all for me.
How a Real Estate Virtual Assistant Helped Me Close More Sales- a Client's journey:
"As a real estate agent, I was struggling to keep up with all the administrative tasks that came with my job. I was spending hours each day responding to emails, managing paperwork, and handling customer service inquiries. It was taking away from the time I could be spending on sales and generating leads.
That's when I decided to hire a real estate virtual assistant. After interviewing several candidates, I found the perfect VA who had experience in real estate and was able to handle all of the tasks that were taking up my time.
With the help of my VA, I was able to focus more on sales and generating leads. My VA took care of administrative tasks like responding to emails and managing paperwork, which freed up several hours each day for me to focus on sales.
In addition to administrative tasks, my VA also helped with lead generation and management. She conducted lead research and followed up with potential clients, which helped me close more sales and grow my business.
Thanks to my real estate virtual assistant, I was able to increase my productivity and focus on what I do best – selling homes. Hiring a VA was one of the best decisions I made for my business, and I highly recommend it to other real estate agents who are looking to grow their business." ~ Jennifer
Check out what other clients say:
Questions about the time difference?
No worries, there, we provide you with virtual staff who will work in the time zone you request.
Hire a virtual assistant today even if she is not from our company. A real estate professional is able to grow and scale having a va as a real estate assistant. Choose to get a life and scale your business saving you valuable time to focus on listing presentations and selling houses.
A virtual assistant can help you get a life!  A virtual real estate assistant helps you get your time back and a lot of money, close more deals, and get you more buyers and sellers. Grow your business and get started today.
It is time to hire a virtual assistant to outsource your real estate marketing, manage your calendar, social media management, even make travel arrangements for you.